Mass Schedule of Rev. Fr. David Hewko
October

2023

Sun
Mon
Tue
Wed
Thu
Fri
Sat

1

Holy Mass 4:00pm in CA

Livestreaming Holy Mass 9:00am in CA

• •
For those good souls willing to make reparation to the Immaculate Heart of Mary, please scroll down to "How To Make The Five First Saturdays" for an explanation of this devotion, as requested by Our Lady. To view or download in pdf, click here: How To Make the Five First Saturdays
Act of Spiritual Communion
As I cannot this day enjoy the happiness of assisting at the holy Mysteries, O my God! I transport myself in spirit at the foot of Thine altar; I unite with the Church, which by the hands of the priest, offers Thee Thine adorable Son in the Holy Sacrifice; I offer myself with Him, by Him, and in His Name. I adore, I praise, and thank Thee, imploring Thy mercy, invoking Thine assistance, and presenting Thee the homage I owe Thee as my Creator, the love due to Thee as my Savior.
Apply to my soul, I beseech Thee, O merciful Jesus, Thine infinite merits; apply them also to those for whom I particularly wish to pray. I desire to communicate spiritually, that Thy Blood may purify, Thy Flesh strengthen, and Thy Spirit sanctify me. May I never forget that Thou, my divine Redeemer, hast died for me; may I die to all that is not Thee, that hereafter I may live eternally with Thee. Amen.
+ Sanctuary Lamp Sponsorship +
Sponsor the Sanctuary Lamp to burn for your intentions at Our Lady of Fatima Chapel (the current residence chapel for Fr. Hewko in MA). The Sanctuary Lamp burns in continual honor of both the Real Presence of Christ the King, and the Sorrowful Heart of Mary. The faithful are invited to sponsor a candle to burn for their intentions; and each new lamp lighting lasts for about 7 to 8 days. The suggested offering for a candle is $20.00 or whatever you can afford. If you'd like to sponsor a Sanctuary Lamp, please send your name 
HERE
.
Our Lady of Fatima Chapel in Hubbardston, Massachusetts
Also, Fr. Hewko has reprinted this excellent brochure (originally printed by the SSPX in 1986). You can request copies of this brochure either in writing directly to Fr. Hewko at:
Rev. Fr. David Hewko
16 Dogwood Road South
Hubbarston, MA 01452
or via email at sspxmariancorps@gmail.com
Many thanks to the coordinator of Fr. Hewko's mission chapel in MA for the following newsletters
   Our Lady of 
Fátima 
Chapel
          SSPX-MC Massachusetts Mission
---
The Holy Guardian Angels
Feast Day Tomorrow – October 2nd
The Holy Church has instituted a special festival to recall to our mind the grace which God's infinite mercy has bestowed upon us by appointing the holy Angels for our temporal and spiritual protection. This festival should remind us to give thanks to God for this great benefit and to show our gratitude to the holy Angels for their care and solicitude. That this may be performed with due zeal and devotion, consider well the following remarks. The Almighty created a countless number of heavenly spirits, by nature immortal, and bestowed upon them especial graces. I say, a countless number; for it is said in Holy Writ: "Is there any numbering of His Soldiers!" (Job. xxv.) By "soldiers," are understood His Angels. Somewhere else it is written: "Thousands of thousands ministered to Him and ten thousand times a hundred thousand stood before Him." (Daniel, vii.) These Heavenly Spirits are divided into three classes, and each class into three Choirs; hence they consist of nine Choirs.
The first, and highest is composed of the Seraphim; the second, of the Cherubim; the third of the Thrones; the fourth, of the Dominations; the fifth of the Principalities, the sixth, of the Powers; the seventh, of the Virtues; the eighth, of the Archangels; and the ninth, of the Angels. All surround the throne of the most High, constantly praise His infinite Majesty, and are ever ready to execute His commands; still, each of these Choirs has its separate function, as we are taught by Theologians. From the last, or ninth Choir, God has assigned to each human being, a Guardian to protect him. Hence they are called Guardian Angels. Thus the Holy Church teaches, and it cannot be doubted that this teaching is true, as it is founded on the words of Holy Writ. To each human being is given an angel, a prince of heaven to protect him in soul and body, to cheer him in adversity, to console him in sorrow, to strengthen him in temptations, to assist him in danger, to prevent him from doing evil, to incite him to do good, and thus lead him to heaven, if he is obedient to his Guardian Angel.
Just as in former times. God gave to the Israelites a special Angel to guard them and to lead them into the promised land, according to the words: "Behold, I will send my Angel, who shall go before thee and keep thee in thy journey; and bring thee into the place that I have prepared;" (Exodus, xxiii;) so He gives to each man an Angel to protect him on the road of this life, to lead him happily to Heaven, of which the promised land was the type. Pause here, my dear reader, and consider the greatness of this mercy of God towards us. As long as the world has existed, we have never heard of a monarch, who gave one of his noble courtiers the command to be continually at the side of a common peasant, or other man of low estate, to take care of him and lead him safely to a far-off land. But what was never heard of in a temporal king, this and much more our holy faith teaches us is done for us by the great and merciful God, the King of heaven and earth. He has given to everyone, even to the most wretched being, one of the Princes of heaven, to take care of him, constantly to accompany him, and to open for him the gates of the eternal world.
How priceless a grace! How infinite a goodness! Judge yourself, my dear reader, if you have not every reason to offer thanks to the great God, Who has shown such infinite kindness towards you, and who is thus solicitous for your salvation. Today especially, ought you to render thanksgivings to Him; and for this purpose the festival which we celebrate was instituted. Reflect, also, how the Angels, to whose care God has confided us, regard us. They are perfectly satisfied with those whom God has given into their charge, be they poor or rich, of high or of low standing. They perform their mission with the greatest love and solicitude. "They love us," says St. Bernard, "because Christ has loved us." They prove their love by deeds; they avert many dangers of body and soul from us, and protect us most miraculously; they prevent us from doing wrong, and animate us to do good; they fortify us to resist the temptations of Satan. When we have been guilty of sin, they incite us to do penance, to appease the wrath of God, and to turn from us His well-merited punishment; they rejoice when we do penance, and convert our hearts to God; they offer our prayers, fasts, and other good works to the Almighty, and pray to Him for us. They do not leave us, asleep or awake, well or sick; they assist us in life and in death, and accompany our souls to the Judgment-seat of the Most High.
Holy Writ is full of examples which prove all that I have here said. Many more examples are found in the history of the church, and in the Lives of the Saints. An Angel saved the famished Ishmael from danger of death. An Angel preserved the life of the obedient Isaac, by checking the drawn sword of his father. An angel led the pious Lot out of Sodom, and thus saved him from being burned with the rest of the inhabitants. An Angel protected the Israelites against all their enemies. An Angel fed the prophet Elias in the wilderness, and strengthened him to proceed on his long journey. An Angel delivered the pious king Ezekias and the city of Jerusalem from many thousand enemies, by slaying them all in one night. An Angel preserved the prophet Daniel unharmed in the midst of the lions, and brought the prophet Habacuc to feed him. An Angel kept the three companions of the same holy prophet uninjured in the furnace of Babylon. An Angel accompanied the young Tobias as guide during his journey, and instructed him in what manner he should marry the chaste Sarah, to prevent the Evil one from harming him, as had been done to seven others, who had been slain by the devil. Besides benefiting him in various other ways, he saved him also from the danger of being devoured by a monstrous fish. It was the same Angel who had offered the prayers of the elder Tobias to the Almighty, and who afterwards, restored him to sight. An Angel shielded the chaste Judith in great dangers of soul and body. An Angel instructed the Centurion Cornelius how to save his soul. An Angel delivered St. Peter from prison and the danger of death. An Angel preserved the life of St. Paul, and of others, who were with him in the ship. Many other similar events are found in Holy Writ, and in the Lives of the Saints. And what are all these but proofs of the love and solicitude of the Angels for us?
Reflect upon your past life, and see if you yourself have not received sufficient proof of the devotion and care of your holy Guardian Angel? That you have not lost your life in many dangers which encompassed you; that you have been guarded from many sins; that you did not die in your sin, but have time to do penance; that you have received so many spiritual and temporal favors and benefits from the Almighty: all these, and many other favors, are to be ascribed to the powerful protection, the love and care of your holy Guardian Angel and to his intercession with God in your behalf.
In consideration of so many blessings, of such watchful protection, such indescribable devotion and solicitude, you must reasonably conclude that you owe especial gratitude to your holy Guardian Angel. Of course, you have first to render thanks to the Almighty, who placed you under the protection of so noble and kind a Prince of heaven. But St. Bernard exhorts us also to show ourselves grateful towards those, who, obeying the command of God, watch over us so lovingly, and assist us in all our needs. "Let us be full of devotion and gratitude towards such powerful protectors," says he; "let us return love for love, and endeavor to honor them with our whole heart." When God promised to the Israelites to send an Angel to protect them on their journey and lead them to the promised land, He added: "Take notice of him and hear his voice, and do not think him one to be contemned; for he will not forgive when thou hast sinned, and my name is in him; " which means that he represents God. (Exod. xxiii.) These words show you how you must prove your gratitude in deeds.
"Honor him," this is the first thing which God demands. "Honor him," because he is an Angel of God, a representative of God, a great Prince of heaven. "Honor him," because God has raised him to great glory; he sees the face of the Most High, and often acts in His name. "Honor him." You honor your Guardian Angel if you call with confidence on him in all your cares, especially when your soul or your body is endangered, in great temptations, in life and death. Tobias had hardly perceived the danger of being devoured by a monstrous fish, when he called to his faithful guide, who was an Angel: "Sir, he cometh upon me!" He asked help and received it instantly. Why should you not call, with equal confidence, to your Guardian Angel, especially when the hellish monster, the roaring lion, as Holy Writ calls him, the devil, the Evil One, tempts you to sin, and thus endeavors to devour you?" As often as a great temptation or sorrow approaches you," writes St. Bernard, "call to your guide, your protector, and say: " Sir, help me, or I go to destruction!"
"Obey his voice," says the Lord. He speaks to your soul by interior movements or inspirations. For instance, if you are in danger of sin, he calls to you: "Depart from evil, avoid sin." If you are surrounded by occasions of evil, he calls to you: "Withdraw from here! Flee hastily." If you have committed sin, he exhorts you: "Do penance! Return without delay to your God!" In like manner, he admonishes you interiorly, to practice good works, to be more zealous in the service of God, more solicitous for your salvation. Obey this voice, this call of your holy Guardian Angel. If you do not, you despise him, which is contrary to the command of God, who will surely net leave it unpunished, as it is an offense done, in some respect, to His Majesty. Always obey the voice of your Guardian Angel, and offend him not by disobedience, as otherwise you will not be worthy of his protection.
In conclusion, I will give you a memorable admonition of St. Bernard. He urges you, constantly to call to mind the presence of your Angel, and duly to honor him everywhere. This, however, says he, should be done principally by avoiding sin. For it is contrary to all the respect you owe him, to sin in his presence. "In all places," these are the words of the holy teacher, "In all places, manifest to your Angel that honor which is due to him, and dare not commit in his presence what you would not dare to do if I were near." Elsewhere, he says: "Let us walk in such a manner before the eyes of the Angels, that we do not offend their sight." "We must guard ourselves not to offend them, and hence we must assiduously perform all those exercises which we know are agreeable to them, as temperance, chastity, voluntary poverty, devout prayers, &c." Impress these words deeply in your heart; for they contain the best advice as to the means you should employ to honor your holy Guardian Angel, and to assure yourself of his loving and powerful protection during your life, and at the hour of your death. Avoid everything that you know is displeasing to him, and practice, with great zeal, all that you are convinced will be agreeable to him.
PRACTICAL CONSIDERATIONS:
I. The Almighty has placed you under the protection of an Angel. Render thanks to Him this day for so great a benefit. Give thanks also to your Guardian Angel for all the love and care which until now he has always bestowed upon you. Show him always due honor, in accordance with the admonitions of the Lord. Let no day pass on which you do not, at least morning and evening, place yourself under his powerful protection. Do the same if you are harassed by care, sorrow, sadness or temptation, and in all dangers that beset your soul or body.
Pray frequently to him to guard you especially in the dangerous combat you will have to wage with the spirit of hell in your last hour. The holy Church counsels you to do this, when in the name of all the faithful she thus invokes the holy Guardian Angels: "O, all ye holy angels, our protectors; guard us in the combat, that we may not be lost in the fearful Judgment." Remember that your Angel is always near you, especially in Church and when you are tempted to sin. Do nothing of which you would be ashamed in the presence of an upright and dignified person. Obey the voice of your Angel, as God himself commands. The Angel speaks to you deep in your heart; he admonishes you through sermons, confessors and devout books. Despise not his exhortations, but follow when he calls you.
Avoid whatever may displease him, and do all that is agreeable to him. Sin, as an offense to God, is displeasing to him, especially all sin against chastity. Avoid it. Good works, zeal in the service of God, the frequent and pious partaking of the holy Sacraments, a modest deportment in Church, are all pleasing to him; hence, practice them faithfully. In this manner, you will make yourself worthy of the powerful protection of your Guardian Angel, during your life and at the hour of your death.
II. Your holy angel is most perfectly obedient to the Almighty. Following the command of God, he has taken charge of you, and experience has convinced you that he performs his mission well. Be you also obedient to your God. He has entrusted to you a precious, immortal soul, and has commanded you to take good care of it. Take heed that it suffers nothing; this will be for your own benefit. If you have children, servants, or others under you, God has also given them into your care. Be obedient to God and do your duty. Before all things be solicitous for their salvation.
Your Guardian Angel is a pure spirit. He has the greatest horror for the least shadow of impurity. Imitate him. Detest everything, however trifling it may appear, that is unchaste. Do not regard anything as trifling, which may injure chastity; for, nothing can be a trifle, that is displeasing to the Divine Majesty or to your Guardian Angel.
Your holy Angel accompanies you joyfully to Church. He there worships, with great veneration, in the company of many other Angels, your Savior truly present. . Imitate him. Rejoice to go to Church and there worship your God, with angelic reverence and devotion. Say your prayers in such a manner, that your holy Angel may offer them to the Almighty with pleasure. Do not profane your devotions, by unnecessary conversation, by idly gazing around, by indecent manners or other similar irreverence. God requires an unspotted sacrifice, and your holy Angel will not present any other to the Divine Majesty.
Although your Guardian Angel has charge of you, and is constantly with you, he nevertheless enjoys the divine presence and glorifies and praises God unceasingly. Imitate him, by frequently thinking of God during your day's work; by working in His presence and by praising Him, as well by those prayers which you say at stated times of the day, as also by renewing your good intentions, and by short pious ejaculations. If you follow your holy Angel on earth, you will also enjoy his society in heaven. The Venerable Bede writes; "If we desire to attain to the society of the holy Angels in heaven, we must neglect nothing to follow them on earth." – Fr. Francis Xavier Weninger, S.J; Austria, 1876
---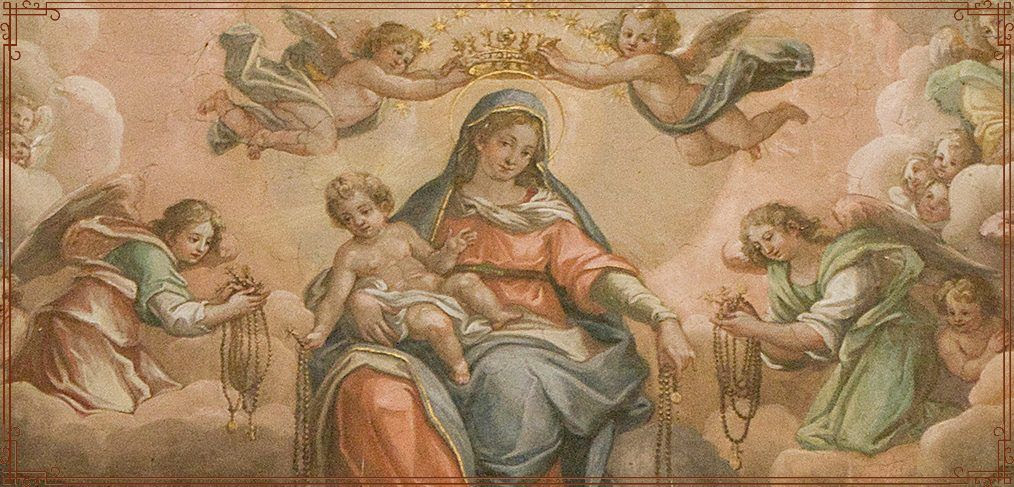 October: Consecrated to the Holy Rosary 
"The Blessed Virgin has given a new efficacy to the praying of the Holy Rosary. This in such a way, that there is no problem that cannot be resolved by praying the Rosary, no matter how difficult it is. I repeat, there is no problem, as difficult as it may be, that we cannot resolve at this time by praying the Holy Rosary. With the Holy Rosary we will save ourselves, sanctify ourselves, console Our Lord and obtain the salvation of many souls." – Sr. Lucia, 1957
---
Holy Mass Schedule
XVIII Week After Pentecost
Today – Sunday, October 1st
Eighteenth Sunday After Pentecost
Saint Remigius, Bishop & Confessor
Holy Mass Livestream from Los Angeles – 12:00 Noon EDT
Link Here
Tuesday, October 3rd – 5:30 PM
Saint Therese of the Child Jesus, Virgin
Wednesday, October 4th – 7:30 AM
Saint Francis, Confessor
Thursday, October 5th – 7:30 AM
Saint Placid & Companions, Martyrs
First Friday, October 6th
Saint Bruno, Confessor
Holy Mass Livestream from ND – TBD
Link Here
First Saturday, October 7th
The Most Holy Rosary
The Five First Saturdays
Holy Mass Livestream from MN – 9:00 AM EDT
Link Here
Confessions / Rosary – 30 Minutes Before Mass
---
XVIII Sunday After Pentecost
Arise, take up thy bed, and go into thy house. – Matthew ix:6
The Paralytic carrying his bed is the subject of this day's Gospel, and gives the eighteenth Sunday after Pentecost its title. It has been thought, by some, that its having the number it bears has caused it to be inserted in the Missal immediately after the Ember Days of autumn. We will not, like the Liturgists of the Middle Ages, discuss the question as to whether we should consider it has having taken the place of the vacant Sunday, which formerly used always to follow the ordination of the sacred ministers, in the manner we have elsewhere described. Manuscript Sacramentaries and Lectionaries, of very ancient date, give it the name which was so much in use of Dominica vacat. Whatever may be the conclusion arrived at, there is one interesting point for consideration—that the Mass of this day is the only one in which is broken the order of the lessons taken from St. Paul, and which invariably form the subject of the Epistles, from the sixth Sunday after Pentecost: the Letter to the Ephesians—which we have had already before us, and will be afterwards continued—is today interrupted, and in its stead we have some verses from the first Epistle to the Corinthians, wherein the Apostle gives thanks to God for the manifold gratuitous gifts granted, in Christ Jesus, to the Church. Now, the powers conferred, by the imposition of the Bishop's hands, on the ministers of the Church, are the most marvelous gift that is known on earth, yea, in heaven itself. The other portions of the Mass, too, are, as we shall see further on, most appropriate to the prerogatives of the new Priesthood. So that the Liturgy of the present Sunday is doubly telling, when it immediately follows the Ember Days of September. But this coincidence is far from being one of every year's occurrence, at least as the Liturgy now stands; nor can we dwell longer on these subjects without seeming to be going too far into archæology, and exceeding the limits we have marked out for ourselves.
Mass
The Introit of the Sunday Masses, since Pentecost, was always taken from the Psalms. From the 12th to the 118th, the Church, without ever changing the order of these sacred canticles, chose from each of them, as its own turn came, the Verses most appropriate to the Liturgy of each Sunday. But dating from today, she is going to select her Introits elsewhere, with one exception, however, when she will again turn to this the Book, by excellence, of divine praise. Her future opening-Anthems, for the Dominical Liturgy, to the end of the Year, will be taken from the various other books of the Old Testament. For this 18th Sunday, we have Jesus, son of Sirach, the inspired writer of Ecclesiastes, asking God to ratify, by the accomplishment of what they foretold, the fidelity of his Prophets. The interpreters of the divine oracles are now the Pastors whom the Church sends, in her own name, to preach the word of salvation and peace; let us, her children, pray with her, that their words may never be void.
Introit
Da pacem, Domine, sustinentibus te, ut Prophetæ tui fideles inveniantur; exaudi preces servi tui et plebis tuæ Israel.
Give peace, O Lord, to them who patiently wait for thee, that thy Prophets may be found faithful; hear the prayers of thy servant, and of thy people Israel.
Ps. Lætatus sum in his, quæ dicta sunt mihi: in domum Dominni ibimus. Gloria Patri. Da pacem.
Ps. I rejoiced at the things that were said unto me: we shall go into the house of the Lord. Glory, etc. Give peace.
The surest way to obtain grace is to be ever humbly acknowledging, to our God, our deep conviction that, of ourselves, we cannot please his divine Majesty. The Church continues to give us, in her Collects, the most admirable expressions of such an avowal.
Collect
Dirigat corda nostra, quæsumus Domine, tuæ miserationis operatio: quia tibi sine te placere non possumus. Per Dominum.
May the working of thy mercy, O Lord, direct our hearts: for, without thee, we cannot please thee. Through, etc.
The other Collects, as in the Fourth Sunday After Pentecost.
Epistle
Lectio Epistolæ beati Pauli Apostoli ad Corinthios.
Lesson of the Epistle of St. Paul, the Apostle, to the Corinthians.
1 Cap. i.
1 Ch. i.
Fratres, Gratias ago Deo meo semper pro vobis in gratia Dei, quæ data est vobis in Christo Jesu: quod in omnibus divites facti estis in illo, in omni verbo, et in omni scientia. Sicut testimonium Christi confirmatum est in vobis: ita ut nihil vobis desit in ulla gratia, exspectantibus revelationem Domini nostri Jesu Christi, qui et confirmabit vos usque in finem sine crimine, in die adventus Domini nostri Jesu Christi.
Brethren: I give thanks to my God always for you, for the grace of God that is given you in Christ Jesus, That in all things you are made rich in him, in all utterance, and in all knowledge; As the testimony of Christ was confirmed in you, So that nothing is wanting to you in any grace, waiting for the manifestation of our Lord Jesus Christ. Who also will confirm you unto the end without crime, in the day of the coming of our Lord Jesus Christ.
The last Coming of the Son of Man is no longer far off! The approach of that final event, which is to put the Church in full possession of her divine Spouse, redoubles her hopes—but the Last Judgment, which is also to pronounce the eternal perdition of so great a number of her children, mingles fear with her desire; and these two sentiments of hers will henceforth be continually brought forward in the holy Liturgy.
It is evident that Expectation has been, so to say, an essential characteristic of her existence. Separated as she is, at least as to the vision of his divine charms, she would have been sighing all day long in this vale of tears had not the love, which possesses her, driven her to spend herself, unselfishly and unreservedly, for Him who is absolute Master of her whole heart. She therefore devotes herself to labor and suffering, to prayers and tears. But her devotedness, unlimited as it has been, has not made her hopes less ardent. A love without desires is not a virtue of the Church; she condemns it in her children as being an insult to the Spouse.
So just, and at the same time so intense, were, and from the very first, these her aspirations, that Eternal Wisdom wished to spare his Bride by concealing from her the duration of her exile. The day and hour of his return is the one sole point upon which, when questioned by his Apostles, Jesus refused to enlighten his Church. That secret constituted one of the designs of God's government of the world; but besides that, it was also a proof of the compassion and affection of the Man-God: the trial would have been too cruel; and it was better to leave the Church under the impression, which after all was a true one, that the end was nigh in God's sight, with whom a thousand Years are as one day.
It is this which explains how it was that the Apostles, who were the interpreters of the Church's aspirations, are continually recurring to the subject of the near approach of our Lord's coming. St. Paul has just been telling us, and that twice over in the same breath, that the Christian is he who waiteth for the manifestation of our Lord Jesus Christ, and for the day of his Coming. In his Epistle to the Hebrews, he applies to the second Coming, the inflamed desires of the ancient Prophets for the first; and says: Yet a little, and a very little while, and He that is to come, will come, and will not delay. The reason is that under the New Covenant, as under the Old, the Man-God is called, on account of his final manifestation, which is always being looked for, he that is coming, he that is to come. The cry, which is to close the world's history, is to be the announcement of his arrival: Behold! the Bridegroom is coming.
And St. Peter, too, says: "Having the loins of your mind girt up, think of the glory of that Day, whereon the Lord Jesus is to be revealed! Hope for it, with a perfect hope!" The Prince of the Apostles foresaw the contemptuous way in which future false teachers would scoff at this long expected, but always put-off, Coming; Where is his promise, or his Coming? For, since the fathers slept, all things continue so, from the beginning of creation! Yes, he foresaw this, and forestalled their sarcasm by answering it in the words which his brother Paul had previously used: The Lord delayeth not his promise, as some imagine; but, beareth patiently, for your sake, not willing that any should perish, but that all should return to penance. But, the day of the Lord shall come as a thief, in which the heavens shall pass away with great violence; and the elements shall be dissolved with heat; and the earth, and the works that are in it, shall be burnt up. Seeing, then, that all these things are to be dissolved, what manner of people ought ye to be in holy conversations and godliness, waiting for, and hastening unto, the coming of the day of the Lord, by which, the heavens being on fire, shall be dissolved, and the elements shall melt with the burning heat of fire? But, we look for new heavens and new earth, according to his promise, in which heavens and earth, justice dwelleth. Wherefore, dearly beloved, waiting for these things, be diligent that ye may be found, before Him, unspotted and blameless in peace … Wherefore, Brethren, knowing these things before, beware! lest, being led away by the error of the unwise, ye fall from the steadfastness, which is now yours.
If, in those last days, danger is to be so great that the very powers of heaven shall be moved, our Lord, as we are told in our Epistle has providentially confirmed in us his testimony and our faith, by continual manifestations of his power. And, as it were to confirm that other word of the same Epistle, that he will thus confirm unto the end them that believe in him—he is almost prodigal of prodigies in these our times, as though they were precursors of the End. Miracles are forcing themselves on the world's unwilling notice; and our modern facilities for propagating news are made to tell this glory of the Lord all over his earth! In the name of Jesus, in the name of one or other of his Saints, but especially in the name of his Immaculate Mother, who is preparing the final triumph of the Church—the blind see, the lame walk, the deaf hear, every misery of both body and soul is suddenly made to yield. So incontestable, indeed, and so public, is the manifestation of supernatural power that business managers of all kinds, though they must, out of regard for incredulity, laugh at the facts, yet are they most serious in turning the occasion to their profit! Such very material agencies as Railway Companies have been but too glad to be obliged to put on extra Trains to accommodate the Faithful thousands, and carry them as quickly as they could to the favored sanctuaries, where the holy Mother of God has appeared. It is not in Catholic countries only that the divine power has made itself felt. Quite recently, in the very center of Mohometan infidelity—have we not read it in our papers how the city of the Sultans rejoiced at hearing of the marvels done by the Queen of heaven within its own walls? The water of the miraculous fountain has been carried even into the city of Mecca, where is the tomb of the founder of Islam, and into which, until but lately, it was death for any Christian to enter.
The infidel may talk as he please but there being no God! If he hear not the divine testimony, it is because corruption or pride has more power over him than the light of reason—just as it was with the enemies of Jesus, during his life upon the earth. He is like to the asp of the Psalm, which maketh itself deaf; it stoppeth its ears that it may never hear the voice of the divine Enchanter, who speaketh that he may save. His life is one piece of madness and folly; he has done his best to drawn down vengeance upon himself.
Let us not be like him; but with the Apostle, let us thank God for the rich profusion of Grace, which he has so mercifully poured out upon us. Never were his gratuitous gifts more necessary than in these our miserable times. True, it is not a first promulgation that we stand in need of; but the efforts of hell against it have become so violent that in order to withstand them there is a need of a power from on high, equal in some sense to that we read of as being granted in the beginning of the Church. Let us beseech our Lord to bless us with men powerful in word and work. Let us, by the fervor of our fastings and prayers, obtain from his divine Majesty that the imposition of hands may produce, now more than ever, in them that are called to the Priesthood, its full result: that it may make them rich in all things, and especially in all utterance, and in all knowledge. May these days of ours, in which all priciples are growing shadowy, find that the supernatural light, at least—the light of salvation—is kept up, in full splendor and purity, by the zeal of the Guides of the flock of Christ. May the compromises and flinchings of a generation, in which all truth is being etiolated and minced, never lead our newly ordained Priests, either themselves to shorten or permit anyone else to curtail, the measure of the perfect man, which was put into their hands in order that they might apply it to every Christian who is desirous of observing the Gospel! In spite of all threats—in spite of the noisy passions which are boisterous against any Priest who dares to preach the truth—let their voice be just what it should be—that is, an echo of the Word: let it, that is, possess the holy firmness and vibration of the Saints!
In the Gradual, the Church repeats the Introit-Verse, to celebrate once more the joy felt by the Christian people at hearing the glad tiding, that they are soon to go into the House of the Lord. That House is Heaven, into which we are to enter, on the last day, our Lord Jesus Christ leading the way. But the House is also the temple, in which we are now assembled, and into which we are introduced by the representatives of that same Lord of ours—that is, by his Priests.
Gradual
Lætatus sum in his, quæ dicta sunt mihi: in domum Domini ibimus.
I rejoiced at the things that were said unto me: we shall go into the house of the Lord.
℣. Fiat pax in virtute tua, et abundantia in turribus tuis.
℣. Let peace be in thy strength, and abundance in thy towers.
Alleluia, alleluia.
Alleluia, alleluia.
℣. Timebunt gentes nomen tuum, domine: et omnes reges terræ gloriam tuam. Alleluia.
℣. The Gentiles shall fear thy name, O Lord: and all the kings of the earth thy glory. Alleluia.
Gospel
Sequentia sancti Evangelii secundum Matthæum.
Sequel of the holy Gospel according to St. Matthew.
Cap. ix.
Ch. ix.
In illo tempore: Ascendens Jesus in naviculam, transfretavit, et venit in civitatem suam. Et ecce offerebant ei paralyticum jacentem in lecto. Et videns Jesus fidem illorum, dixit paralytico: Confide fili, remittuntur tibi peccata tua. Et ecce quidam de scribis dixerunt intra se: Hic blasphemat. Et cum vidisset Jesus cogitationes eorum, dixit: Ut quid cogitatis mala in cordibus vestris? Quid est facilius dicere: Dimittuntur tibi peccata tua: an dicere: Surge, et ambula? Ut autem sciatis, quia Filius hominis habet potestatem in terra dimittendi peccata, tunc ait paralytico: Surge, tolle lectum tuum, et vade in domum tuam. Et surrexit, et abiit in domum suam. Videntes autem turbæ timuerunt, et glorificaverunt Deum, qui dedit potestatem talem hominibus.
At that time: Jesus entering into a boat, he passed over the water and came into his own city. And behold they brought to him one sick of the palsy lying in a bed. And Jesus, seeing their faith, said to the man sick of the palsy: Be of good heart, son, thy sins are forgiven thee. And behold some of the scribes said within themselves: He blasphemeth. And Jesus seeing their thoughts, said: Why do you think evil in your hearts? Whether is easier, to say, Thy sins are forgiven thee: or to say, Arise, and walk? But that you may know that the Son of man hath power on earth to forgive sins, (then said he to the man sick of palsy,) Arise, take up thy bed, and go into thy house. And he arose, and went into his house. And the multitude seeing it, feared, and glorified God that gave such power to men.
In the 13th Century, in many Churches of the West, the Gospel for today was that wherein our Lord speaks of the Scribes and Pharisees as seated on the chair of Moses. The Abbot Rupert, who gives us this detail in his book on the Divine Offices, shows how admirably this Gospel harmonized with the Offertory, which is the one we still have, and which alludes to Moses. "This Sunday's Office," says he, "eloquently points out to him who presides over the House of the Lord, and has received charge of souls, the manner in which he should comport himself in the high rank, where the divine call has placed him. Let him not imitate those men who unworthily sat on the Chair of Moses; but let him follow the example of Moses himself, who, in the Offertory and its verses, presents the heads of the Church with such a model of perfection. Pastors of souls ought, on no account, to be ignorant of the reason why they are placed higher than other men: it is not so much that they may govern others as that they may serve them." Our Lord, speaking of the jewish doctors, said: "All whatsoever they shall say to you, observe and do; but according to their works, do ye not: for they say, and do not." Contrariwise to these unworthy guardians of the Law, they who are seated on the Chair of doctrine "should teach and act comformably to their teaching," as the same Abbot Rupert adds; "or rather," says he, "let them first do what it is their duty to do, that they may afterwards teach with authority; let them not seek after honors and titles, but make this their one subject—to bear on themselves the sins of the people, and to merit to avert, from those who are confided to their care, the wrath of God, as we are told in the Offertory, Moses did."
The Gospel which speaks of the Scribes and Pharisees who were seated on the Chair of Moses has now been appointed for the Tuesday of the second week of Lent. But the one which is at present given for this Sunday equally directs our thoughts to the consideration of the superhuman powers of the Priesthood, which are the common boon of regenerated humanity. The Faithful, whose attention used formerly, on this Sunday, to be fixed on the right of Teaching, which is confided to the Pastors of the Church, are now invited to meditate upon the prerogative which these same men have—of forgiving sins and healing souls. As a conduct, in opposition with their teaching, would in no wise interfere with the authority of the sacred Chair, from which, for the Church and in her name, they dispense the bread of doctrine to her children—so whatever unworthiness there may happen to be on the soul of a Priest, it does not in the least lessen the power of the Keys, which he has had put into his hands, and which open heaven and shut hell. For it is the Son of Man—it is Jesus—who, by the Priest, be he a saint or be he a sinner, rids of their sins His brethren and His creatures whose miseries He has taken upon Himself, and has atoned for their crimes by His Blood.
The miracle of the cure of the Paralytic, which gave an occasion to Jesus of declaring his power of forgiving sins, inasmuch as he was Son of Man, has always been especially dear to the Church. Besides the narration she gives us of it from St. Matthew, in today's Gospel she again, on the Ember Friday of Whitsuntide, relates it in the words of St. Luke. The Catacomb frescoes, which has been preserved to the present day, equally attest the predilection for this subject, wherewith she inspired the christian artists of the first centuries. From the very beginning of Christianity, heretics had risen up, denying that the Church had the power which her divine Head gave her of remitting sin: such false teaching was equivalent to the irretrievably condemning, to spiritual death, an immense number of Christians who, unhappily, had fallen after their baptism but who, according to Catholic dogma, might be restored to grace by the Sacrament of Penance. With what energy, then, would not our Mother the Church defend the treasure, we mean, the remedy, which gives life to her children! She uttered her anathemas upon, and drove from her communion, those Pharisees of the New Law who, like their jewish predecessors, refused to acknowledge the infinite mercy and universality of the great mystery of the Redemption.
Like to her divine Master, who had worked under the eyes of the Scribes and his contradictors, the Church too, in proof of her consoling doctrine, had worked an undeniable and visible miracle in the presence of the false teachers; and yet she failed to convince them of the reality of the miracle of sanctification and grace invisibly wrought by her words of remission and pardon. The outward cure of the Paralytic was both the image and the proof of the cure of his soul, which previously had been in a state of moral paralysis; but he himself represented another sufferer: that other was the human race, which for ages had been a victim to the palsy of sin. Our Lord had left the earth when the faith of the Apostles achieved this their first prodigy—of bringing to the Church the world, grown old in its infirmity. Finding that the human race was docile to the teaching of the divine messengers and was already an imitator of their faith, the Church spoke as a Mother and said: Be of good heart, Son! thy sins are forgiven thee! At once, to the astonishment of the philosophers and skeptics, and to the confusion of hell, the world rose up from its long and deep humiliation; and to prove how thoroughly his strength had been restored to him, he was seen carrying on his shoulders, by the labor of penance and the mastery over his passions, the bed of his old exhaustion and feebleness, on which pride, lust, and covetousness had so long held him. From that time forward, complying with the word of Jesus, which was also said to him by the Church, he has been going on towards his house, which is heaven, where eternal joy awaits him! And the Angels, beholding such a spectacle on earth of conversion and holiness, are in amazement, and sing glory to God, who gave such power to men.
Let us also give thanks to Jesus, whose marvelous dower, which is the Blood he shed for his Bride, suffices to satisfy, through all ages, the claims of eternal justice. It was at Easter Time that we saw our Lord instituting the great Sacrament, which, thus in one instant, restores the sinner to life and strength. But how doubly wonderful does not its power seem when we see it working in these times of effeminacy and well-nigh universal ruin! Iniquity abounds; crimes are multiplied; and yet the life-restoring pool, kept full by the sacred stream which flows from the open Side of our crucified Lord, is ever absorbing and removing, as often as we permit it, and without leaving one single vestige of them, those mountains of sins, those hideous treasures of iniquity which had been amassed during long years by the united agency of the devil, the world, and man's own self.
The Offertory speaks to us of the figurative altar, which was set up by Moses, for the reception of the oblations of the figurative Law, which oblations foreshadowed the great and only true Sacrifice, at which we are now present. After the Anthem which is still in use, we will append the Verses which were anciently added. Moses is there represented as the type of those faithful Prophets mentioned in the Introit; he is shown to us, as the model of those true leaders of God's people, who devote themselves in procuring mercy and peace to those whom they guide. God sometimes seems to resist them; but he always lets himself be overcome! and in return for their fidelity, he admits them into the most intimate manifestations of his light and his love. The first Verse shows us the Priest in his public life of intercession and devotedness for others; the second reveals to us his private life, of which prayer and contemplation are the main occupation. We shall not be surprised at the length of these Verses, the singing of which would far exceed the time for offering the Host and Chalice, such as is now the custom—if we remember how it was the ancient usage that the whole assembly of the Faithful, present at the Holy Sacrifice, took part in the oblation of the bread and wine needed for the Liturgy. So, likewise, the Communion, which at present consists of only a few lines, was originally nothing but the Antiphon to an entire Psalm, which in the ancient Antiphonaries was appointed for each day, when it was not the same as the Introit-Psalm; the Psalm was sung, repeating the Antiphon after each Verse, until the number of communicants was completed.
Offertory
Sanctificavit Moyses altare Domino, offerens super illus holocausta, et immolans victimas: fecit sacrificium vespertinum in odorem suavitatis Domino Deo in conspectu filiorum Israel.
Moses consecrated an altar unto the Lord, offering whole burnt offerings thereon, and slaying victims: he made an evening sacrifice for a sweet odor unto the Lord God, in the sight of the children of Israel.
℣. Locutus est Dominus ad Moysen dicens: Ascende ad me in montem Sina, et stabis super cacumen ejus. Surgens Moyses, ascendit in montem, ubi constitui ei Deus; et descendit ad eum Dominus in nube, et adstitit ante faciem ejus. Videns Moyses, procidens adoravit, dicens: Obsecro, Domine, dimitte peccata populi tui. Et dixit ad eum Dominus: Faciam secundum verbum tuum.
℣. The Lord spake unto Moses saying: Come up unto me, upon mount Sina, and thou shalt stand on the top thereof. Moses rising up, went up the mountain, where the Lord had appointed him: and the Lord came down unto him in a cloud, and stood before his face. Which Moses seeing, he fell down and adored, saying: I beseech thee, O Lord, forgive the sins of thy people. And the Lord said unto him: I will do according to thy word.
Tunc Moyses fecit sacricium vespertinum.
Then Moses made an evening sacrifice.
℣. II. Oravit Moyses Dominum, et dixit: Si inveni gratiam in conspectu tuo, ostende mihi teipsum manifeste, ut videam te. Et locutus est ad eum Dominus dicens: Non enim videbit me homo, et vivere potest: sed esto super altitudinem lapidis, et protegat te dextera mea donec pertranseam: dum pertransiero, auferam manum meam, et tunc videbis gloriam meam: facies autem mea non videbitur tibi uia ego sum Deus ostendens mirabilia in terra.
℣. II. Moses prayed to the Lord and said: If I have found favor in thy sight, show me thyself openly, that I may see thee. And the Lord spake unto him, saying: For man shall not see me, and live; but, be thou on the height of the rock, and my right hand shall protect thee, till I pass: whilst I pass I will take away my hand, and then shalt thou see my glory: but my face shall not be seen by thee; for I am God, showing wonderful things in the earth.
Tunc Moyses fecit.
Then Moses made.
The sublime eloquence of the Secret is beyond all comment. Let us get thoroughly imbued with the high teaching, here so admirably summed up in a few short words: let us come to understand that our life and conduct should have a something divine about them, in order to our being true respondents to the mysteries which are revealed to our understandings, and incorporated into us, by the venerable "commercia" (it is our Mother's word, and we presume not to alter it)—the veneranda commercia of this Sacrifice.
Secret
Deus, qui nos per hujus sacrificii veneranda commercia, unius summæ divinitatis participes efficis; præsta quæsumus; ut, sicut tuam cognoscimus veritatem, sic eam dignis moribus assequamur. Per Dominum.
O God, who, by the venerable participations of this sacrifice, makest us partakers of the one supreme divine nature: grant, we beseech thee, that as we know thy truth, so may we show it by a worthy conduct of life. Through, etc.
The other Secrets, as in the Fourth Sunday After Pentecost.
The Communion-Anthem is addressed to the Priests, and, at the same time, to us all; for if the Priest offers the Victim, which is the holiest that can be, we should not think of accompanying him into the Court of our God without bringing up, that it may be united to the divine Host, that other victim, which is our own selves. It is God's injunction: Thou shalt not appear empty before me!
While giving thanks in the Postcommunion for the priceless gift of the sacred mysteries, let us beseech our God to perfect within us the grace of always receiving it worthily.
Communion
Tollite hostias, et introite in atria ejus: adorate Dominum in aula sancta ejus.
Bring up sacrifices, and come into his courts: adore ye the Lord in his holy court.
The other Postcommunions, as in the Fourth Sunday After Pentecost.
Postcommunion
Gratias tibi referimus Domine, sacro munere vegetati, tuam misericordiam deprecantes: ut dignos nos ejus participatione perficias. Per Dominum.
Being fed, O Lord, with the sacred gift, we give thee thanks, humbly beseeching thy mercy, that thou wouldst make us worthy of its reception. Through, etc.
– The Liturgical Year by Dom Prosper Guéranger, OSB
Sanctuary Lamp Sponsorship  
Please send your name HERE
Suggested Offering: $20.00 

Our Lady of Fatima Chapel Email List
SUBSCRIBE HERE
How To Make The Five First Saturdays
   Our Lady of Fatima Chapel
     Massachusetts Mission of the SSPX-MC
---
  The Five First Saturdays
"To whoever embraces this devotion, I promise salvation."
On December 10th 1925, the Most Holy Virgin appeared to Sister Lucia. By Our Lady's side, elevated on a luminous cloud, was the Child Jesus. The Most Holy Virgin rested her hand on Sister Lucia's shoulder and as she did so, she showed her Heart encircled by thorns, which she was holding in her other hand.
At the same time, the Holy Child said:
"Have compassion on the Heart of your Most Holy Mother, covered with thorns, with which ungrateful men pierce it at every moment and there is none to make an act of reparation to remove them."
Then, the Most Holy Virgin said:
"Look, my daughter, at my Heart, surrounded with thorns with which ungrateful men pierce me at every moment by their blasphemies and ingratitude. You at least try to console me and announce in my name that I promise to assist, at the moment of death, with all the graces necessary for salvation, all those who:
(1) On the First Saturday of five consecutive months,
(2) Shall confess,
(3) Receive Holy Communion,
(4) Recite five decades of the Rosary and
(5) Keep me company for 15 minutes while meditating on the fifteen mysteries of the Rosary,
(6) With the intention of making reparation to me"
– Conditions of the Promise –
Why Five First Saturdays? Our Lord Himself gave the answer to Sister Lucia:
"My daughter, the reason is simple. There are five types of offenses and blasphemies committed against the Immaculate Heart of Mary:
1 – Blasphemies against the Immaculate Conception;
2 – Blasphemies against her virginity;
3 – Blasphemies against her Divine Maternity, in refusing at the same time to recognize her as the Mother of men;
4 – The blasphemies of those who publicly seek to sow in the hearts of children, indifference or scorn or even hatred of this Immaculate Mother;
5 – The offense of those who outrage her directly in her holy images.
Here, My daughter is the reason why the Immaculate Heart of Mary inspired Me to ask for this little act of reparation…" 
+ THE CONFESSION +
Sister Lucia asked Our Blessed Lord:
My Jesus!  Many souls find it difficult to confess on Saturday. Will Thou allow a confession within eight days to be valid?
He replied: "Yes. It can even be made later on, provided that the souls are in the state of grace when they receive Me on the First Saturday and that they had the intention of making reparation to the Immaculate Heart of Mary."
Sister Lucia replied: "My Jesus! And those who forget to form this intention?"
 "They can form it at the next confession, taking advantage of their first opportunity to go to confession."
In brief, therefore:
(a) The confession should be made as close as possible to the First Saturday;
(b)  We must be sorry for our sins, not only because we have offended God but also with the intention of making reparation to the Immaculate Heart of Mary.
+ THE HOLY COMMUNION +
If one cannot fulfill all the conditions on a Saturday, can it be done on Sunday? Our Lord gave the answer to Sister Lucia:
"The practice of this devotion will be equally acceptable on the Sunday following the First Saturday when My priests – for a just cause, allow it to souls."
Important: It is to His priests – not to the individual conscience that Our Lord gives the responsibility of granting this additional concession.
+ THE ROSARY +
Since it is a question of repairing for offenses committed against the Immaculate Heart of Mary, what other prayer could be more pleasing to Our Lady than that which she requested the people to recite every day?
+ THE 15 MINUTE MEDITATION +
This is in addition to the recitation of the Rosary.
It requires, in Sister Lucia's words:

"…to keep Our Lady company for 15 minutes while meditating on the mysteries of the Rosary."
Note: It is not required to meditate on all fifteen mysteries. Meditation on one or two is sufficient.
+ THE INTENTION OF MAKING REPARATION +
"You, at least, try to console me." 
Without this general intention – without this will of love which desires to make reparation and consolation to Our Lady – all these external practices are worth nothing for the Promise.
" …I promise salvation" 
"To all those who, on the First Saturday of five consecutive months, fulfill all the conditions requested, I promise to assist them at the hour of death with all the graces necessary for the salvation of their soul."
This little devotion practiced with a good heart, is enough to procure – ex opere operato, so to speak; as with the sacraments – the grace of final perseverance and eternal salvation!
Heaven for eternity for five Holy Communions!